Where Can I Get BMW Suspension Repair?

---
---
When your BMW suspension is in need of repair, it is most likely because the shocks or struts have been damaged or they are simply worn down. Keeping your BMW suspension system well-maintained ensures a comfortable ride on the Los Angeles roads. It also ensures that your vehicle is performing and handling at its best. If it is time for suspension repair, the BMW experts at the Rusnak BMW service center are here to assist you.
Does My Vehicle Require Repair?
Because the suspension system in your BMW vehicle is composed of several different components, you will likely notice a less smooth ride when something goes wrong. Your suspension system is made up of the tires, the air in the tires, springs, shock absorbers, struts, arms, bars, linkages, bushings, and joints. You will find these components between the frame of the vehicle and the road. Some models also offer the BMW air suspension system, where air is used instead of steel springs for sportier performance. When your vehicle is in need of suspension repair, you will likely notice one of these warning signs:
A rougher, bumpier ride due to worn shocks and struts
Increase in sway during windy days
Tire shaking or vibration after hitting holes or bumps
Shocks leaking fluid
Vehicle pulling to one side because of worn tie rod ends
One corner of the car is lower due to a damaged spring
Premature tire wear from worn control-arm bushings and improper alignment
Issues with the suspension system or BMW air suspension system can not only create an unpleasant drive on the roads of Malibu, but it can also lead to more costly repairs down the road if left unaddressed.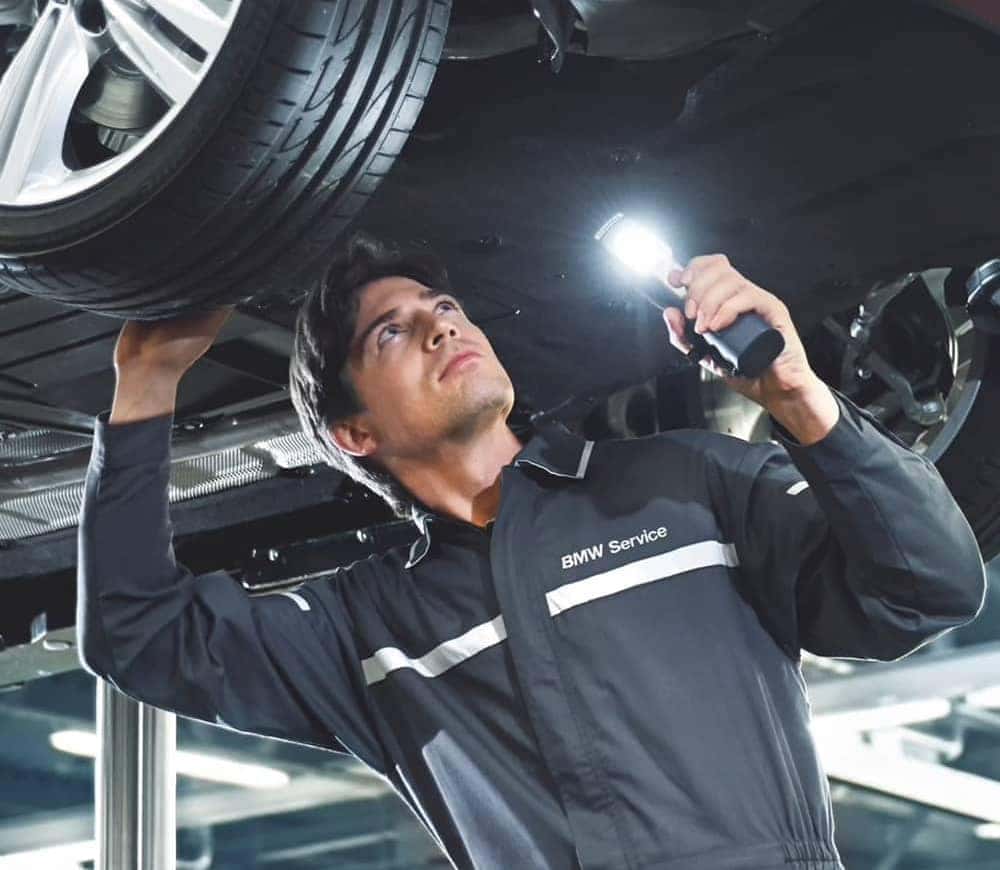 How Much Does Suspension Repair Cost?
The suspension repair cost can fluctuate based on how big of an issue the system is experiencing. In addition to the parts and labor, the amount of rust and wear underneath the car can have an effect on the total suspension repair cost. This is because it is more time-intensive to access and remove the parts that need to be fixed. A wheel alignment may be necessary as well to solve the problem. How much does suspension repair cost? If you would like a more accurate estimate, you can consult the technicians at Rusnak BMW. To help make vehicle repairs and maintenance more affordable for Simi Valley drivers, Rusnak BMW offers a rotating selection of service specials.
Dependable BMW Suspension Repair
If you want to keep your vehicle in pristine condition, routine maintenance is a must. If your BMW is in need of suspension repair or any other service, set up an appointment with Rusnak BMW. Contact us if you have any questions or are interested in learning other service tips including the color of transmission fluid and more.